If you're a Mosaic resident, you know all about the retail and commercial development in Daytona Beach. Restaurants, shopping centers, grocery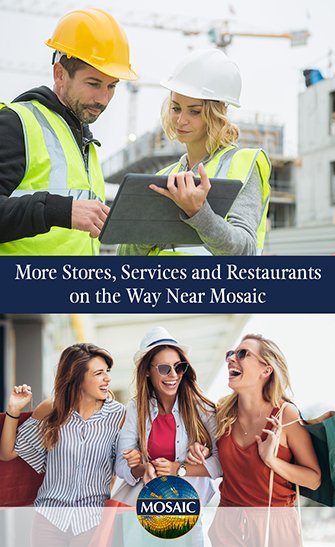 stores and other resources are popping up regularly near the LPGA Boulevard-Interstate 95 interchange, not far from Mosaic.
Don't worry though, if you're considering buying or building a new custom Florida home here, we promise you won't live in the midst of commercial construction. Mosaic is located off LPGA Boulevard on the west side of I-95, with Tiger Bay State Forest as its western border. You'll enjoy peace and quiet, with all the resident amenities of this master-planned community. All sorts of dining, entertainment and daily services are only a few miles away.
Read on for updated info on the business, retail and commercial development in Daytona Beach.
Buc-ee's
This Texas-based chain of convenience stories will debut the largest gas station in Florida when its Daytona Beach facility opens in early 2021. Guess where the Daytona Beach facility is being built? You're right! The LPGA Boulevard-I-95 interchange, in its northeast quadrant.
Buc-ee's is ginormous, but in a friendly, roomy and helpful way. Its site near Mosaic will offer 120 gas pumps (no joke) and a 53,000-square-foot convenience store that likely resembles none you've ever seen, unless you've visited one of its Texas locations.
Inside its stores, Buc-ee's offers its own fresh-food stations, snacks, gifts and ginormous — sorry, had to — restrooms.
One thing's certain: you probably won't have to line up and wait for a gas pump ever again.
Shopping centers
Tomoka Town Center, one of two anchor shopping enclaves on the east side of the LPGA-I-95 Boulevard (the other is Tanger Outlets), continues expanding. A location of Duck Donuts opened there in June 2020. A new Sam's Club opened just north of Tanger Outlets.
Construction on a new-prototype Rooms To Go showroom is underway north of Tanger Outlets. So is construction on Ford's Garage, a restaurant known for craft beers and burgers, which broke ground in May 2019. The Tampa-based chain is an official licensee of the Ford Motor Company.
Look for a location of 5.11 Tactical (outfitter and outdoor apparel) next to Barnes & Noble.
Meanwhile, construction continues on the Shoppes at Williamson Crossing, at the southeast corner of Williamson Boulevard and LPGA, behind the RaceTrac gas station. Plans call for an AT&T store, Burger King, Great Clips and a Goodwill, among other stores.
Other commercial development in Daytona Beach
East of the LPGA Boulevard-I-95 interchange, Amazon opened a "last-mile" delivery station in Daytona Beach in September 2019. Also up and running are distribution centers for Trader Joe's and B. Braun Medical Inc.
Many Mosaic residents are familiar with the Publix grocery store that opened in 2019 only a few miles north, on LPGA Boulevard.
Ready for your Mosaic lifestyle? Talk to us here.