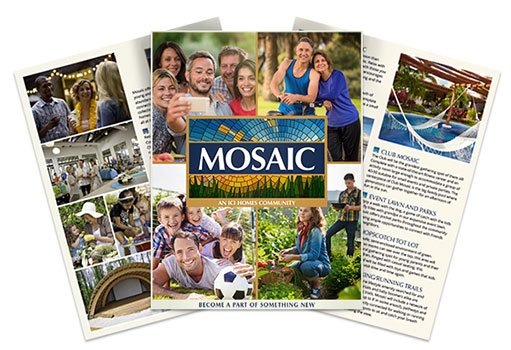 Thank you for your interest in Mosaic. Please provide the information requested below and we will email our complete brochure package to you.
In the Mosaic brochure you will find:
Amenity and Lifestyle Details – Learn More About Our Spectacular Resident Amenities.
Our Builders – Learn More About Adley Homes and ICI Homes, Mosaic's Preferred Local Builders
And More – You'll Be a Mosaic Expert!
Download Your Brochure Today!

By opting into the ICI Homes text program, I understand and agree that message frequency will vary by use from ICI Homes including transactional alerts & special offers. I understand that these messages may be sent via autodial text message to the phone number I provided. I understand I can opt-out at any time by texting STOP to 69983, and can get more information about the program by texting HELP to 69983. I understand that message and data rates may apply. Terms & Conditions