Things are popping around Mosiac these days. The area is welcoming in new shops, services and retail options almost on a monthly basis.
Much of this is taking place near Mosaic, or only a few miles away. Therefore, the convenience factor is enormously helpful for current and future residents.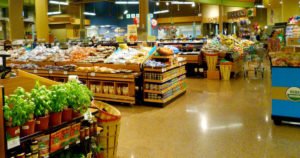 Mosaic is mere minutes from the booming LPGA Boulevard-Interstate 95 interchange in Daytona Beach. So, it's easy to reach all these hot new spots and trusted go-tos.
Take groceries, for example. A new 48,000-square-foot Publix is now open three miles north of Mosaic, off LPGA Boulevard and Tymber Creek Road. This Publix incorporates a pharmacy with a drive-through window and anchors a new shopping center along with a 14,000-square-foot Publix Liquor store next door.
Also new to the same shopping center will be a Woof Gang Bakery pet and grooming store. (Rejoice, Mosaic pet parents!) A Mexican restaurant called Agave Azul, and an Ace Golf Carts are also among the businesses that are coming soon. Both Woof Gang Bakery and Agave Azul are Orlando-based companies, and we're excited to have them here in Daytona!
But this Publix and its accompanying shops aren't the only newcomers for Mosaic residents to check out. So, stay tuned for what else is rising nearby.
What's here, what will be
A new Sam's Club opened in July 2019 on the east side of the LPGA-I-95 interchange, just north of Tanger Outlets. Other 2019 retail openings on the same side of I-95 include a raft of popular retailers in Tomoka Town Center — Barnes & Noble, Academy Sports + Outdoor, TJMaxx, Burlington, DSW, Ross, Hobby Lobby, Bealls, Five Below, Tuesday Morning, Ulta and more.
A Texas-based convenience and gas station complex called Buc-ee's broke ground on the northeast corner of the LPGA-I-95 interchange in September 2019. It's the first Florida location for the chain, which specializes in Texas-sized numbers of gas pumps, restrooms, food offerings and gift shops.
Upcoming is the Shoppes at Williamson Crossing — or South Williamson Shops — at the southeast corner of Williamson Boulevard and LPGA. It's to be built behind the existing RaceTrac gas station. Orlando-based Unicorp National Developments, Inc., is the developer. Its site plan shows an ABC liquor store, an AT&T store, a Burger King and a Goodwill.
A Ford's Garage restaurant (craft beers and burgers) broke ground in Tomoka Town Center in May 2019. The Tampa-based chain is an official licensee of the Ford Motor Company.
A specialty grocery store is rumored as part of a projected shopping center on the northeast corner of the Williamson-LPGA intersection. However, we're still awaiting more details on this one, including the name of the store.
Club Mosaic, coming soon
Let's not forget it!
Mosaic's amenity center broke ground in late spring 2019. We expect construction to be complete in spring of 2020. Residents will be able to enjoy an amphitheater, two swimming pools, a fitness center, indoor and outdoor gathering spaces, and more.
Ready for your Mosaic lifestyle? Talk to us here.