Calling all gardeners! And folks who enjoy visiting public gardens! A free experience awaits near your new custom Florida home at Mosaic. It comes with a side of history and a side of whimsy, and is tucked away in a quiet residential corner of neighboring Port Orange. We're talking about the Dunlawton Sugar Mill Gardens, which flourishes on acreage that once held a sugar cane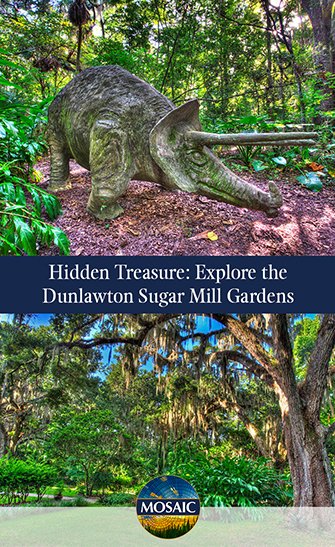 plantation, and, later, an early Florida amusement park. Drama happened here, too. The plantation was burned during the Second Seminole War in the mid-1800s, but the property survived to sprout anew a century later.
Now operated by the non-profit Botanical Gardens of Volusia, Inc., Dunlawton Sugar Mill Gardens feature lovely public gardens under ancient live oaks, towering palms and other semi-tropical trees. The ruins of the planation's sugar mill have been preserved as a historical exhibit. And, the best part of the entire experience is that it's FREE.
So, once you've tamed your Mosaic lawn and/or garden, go exploring. Check out the natural beauty a few miles east.
Here's our tips for a trip to the Dunlawton Sugar Mill Gardens.
Where to find it
The Dunlawton Sugar Mill Gardens are located at 950 Old Sugar Mill Road in Port Orange, Daytona Beach's southern neighbor. It's a quick ride — approximately 12 miles, or 20 minutes.
Exit Mosaic and head south on LPGA Boulevard to U.S. Highway 92 (International Speedway Boulevard). Turn left at the traffic light and continue east to U.S. Highway 1 (Ridgewood Avenue). Turn right onto Ridgewood and head south until the traffic light at Herbert Street. Turn left. Take Herbert Street until its fork with Old Sugar Mill Road. Fork left onto Old Sugar Mill Road. Follow the two-lane residential street until you spot the Gardens on the left.
What it is
The Dunlawton Sugar Mill Gardens occupy 12 acres of what was the Dunlawton Plantation, part of a colonial plantation network that stretched up and down the east Florida coast.
In the 1940s, the Gardens were part of Bongoland, a Florida theme park that contained life-sized dinosaur figures. The latter still remain and are a reminder of the Sunshine State's more recent history. But they're fragile — please don't touch. And don't miss the sugar mill ruins, the human sun dial, children's garden and Florida-shaped herb garden.
The Gardens' historic acreage was donated to Volusia County in 1963. It has been under the care of the all-volunteer Botanical Gardens of Volusia, Inc., since April 1988.
Volunteer opportunity
If you enjoy gardening and would like to donate time and expertise, talk to the folks at the Botanical Gardens of Volusia, Inc. They might be able to use the help and you might enjoy contributing to the preservation of a historic Daytona Beach-area property.
You also can support the Gardens via a membership program or monetary donation.
Ready for your Mosaic lifestyle? Talk to us here.
Photos from DaytonaBeach.com