Dreaming of new custom Florida home in Daytona Beach, but wondering about availability?
Fear not!
This premier master-planned community for all ages is thriving in today's hot residential market, and there's room for you and your household.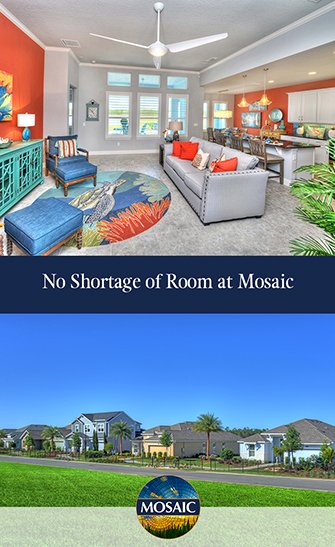 An expansive community, Mosaic will total approximately 2,500 homes at build-out, and you can't top its resident amenities and location.
You'll find Mosaic on the west side of Daytona Beach's LPGA Boulevard/Interstate 95 exit, mere minutes from the bustling Tomoka Town Center retail, dining, shopping and entertainment district.
Club Mosaic serves as the community hub, anchoring meeting and social spaces, a full fitness center, two resort-style swimming pools, an event lawn, band shell, playground and scenic, fish-stocked Lake Mosaic. Walking paths course through the amenity hub and community.
So why wait? Here's more to convince you there's plenty of room at Mosaic.
Availability for your new home in Daytona Beach
As we rebound from a global health crisis, people continue to embrace Florida for its year-round temperate climate, natural beauty and active, outdoor lifestyles. Mosaic continues to meet that residential real estate demand, where we're readying new phases and move-in-ready homes.
A series of 60-foot lots overlooking Mosaic's western boundary, the Tiger Bay State Forest, were released in recent months. The move-in-ready homes, which include some of our most popular floor plans, are in various states of completion. And, many of Mosaic's current and future homesites also offer views of shimmering ponds or Tiger Bay's preservation area.
Will we add more phases and inventory? Check and check.
The point is, get a head start right now by contacting our helpful sales staff.
Daytona Beach is happening
Daytona Beach is one of the top destinations for new Florida residents. Nearby is the convenient intersection of Interstates 95 and 4. The latter will whisk you west to Orlando's world-renowned attractions and the former is Florida's main north-south traffic artery.
Daytona Beach is home to "The World's Most Famous Beach," whose hard-packed sounds and blue-green Atlantic surf served as the birthplace of land-speed records and stock-car racing. It features three institutions of higher learning, booming industry, tourism and job markets, and amazing historical and recreation sites in all directions.
Even better, Daytona Beach recently was recognized as No. 3 on U. S. News & World Report's list of best places to retire in the U.S. in 2021, and No. 3 on Realtor.com®'s annual list of the top 10 most affordable U.S. beach towns.
Ready for your Mosaic lifestyle? Talk to us here.