Looking for a new custom Florida home in the Daytona Beach area? Check out Mosaic, ICI Homes' master-planned community in the heart of Daytona Beach.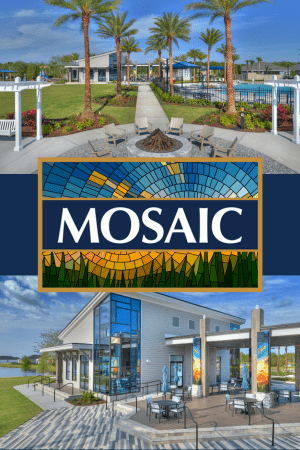 It's located near premier shopping, dining, and entertainment options, and couldn't be more convenient to two of Florida's major interstates — I-95 and I-4.
Mosaic also is a community perfect for all ages, with your choice of 20 (!) customizable one- and two-level floor plans that range from 1,650 to more than 3,500 square feet. You also have your choice of 50-, 60- and 70-foot lots. And, lest we forget, amazing resident amenities and an active community calendar.
What's the best way to sample Mosaic in person or from afar? By touring our model homes! Four new ones are on the way, featuring different sizes and elevations (a home's exterior appearance) that highlight Mosaic's blend of traditional and Mediterranean design.
Read on for a preview.
Why Mosaic is special
This master-planned community's tagline of, "for the young and young at heart," welcomes everyone from first-time buyers, to families of all sizes, busy career folks, active retirees, and anyone in other seasons of life.
Mosaic is minutes from Tomoka Town Center (all the retail, dining and services you'll want), and its western boundary is Tomoka State Forest — gorgeous conservation land. Its amenities include the Club Mosaic residents center, two resort-style swimming pools, a fitness center, an event lawn, a playground and a boardwalk along Lake Mosaic. Plus, all homes here are smart homes with the latest in energy-efficient, residential digital technology.
Meet the new model homes
Mosaic's newest models are four of ICI Homes most popular, roomy and versatile floor plans — the Costa Mesa, the Davenport, the Serena and the Avery II. (Come out to our Realtor Sneak Peek or our New Model Grand Opening Event!)
The 1,993-square-foot, one-level Avery II offers three bedrooms, two bathrooms and a two-vehicle garage.
The 2,217-square-foot-, one-level Serena offers four bedrooms, three bathrooms and a two-vehicle garage.
The 2,537-square-foot, one-level Davenport offers four bedrooms, three bathrooms and a three-vehicle garage.
The 2,565-square-foot, one-level Costa Mesa offers four bedrooms, three bathrooms and a three-vehicle garage.
All provide open social and living spaces, plus private and quiet spaces. Create your Avery II, Serena, Davenport or Costa Mesa by taking advantage of our complimentary customization consultation with one of our talented flour-plan designers. They'll help you select a floor plan, tweak one you like, or perhaps draw something new — all at low- or no-cost.
With new lot availabilities, inventory homes and construction phases, now is a great time to cruise through one of Mosaic's four new models. Do this by visiting the community in person, or via our website. As always, our helpful online sales staff is a great place to start. They're happy to answer questions or schedule a VIP appointment with an on-site sales associate.
Ready for your Mosaic lifestyle? Talk to ICI Homes here.