If you're a new Mosaic resident, you'll be pleased to know there are many quintessential Florida experiences within minutes of this marvelous, master-planned community in Daytona Beach.
Florida's vast natural resources and recreational opportunities are a huge draw for visitors and residents alike. In the Daytona Beach area, we're surrounded by state and municipal parks that boast all sorts of camping, hiking, boating, beaching, and other outdoor activities.
In fact, Mosaic's western boundary is the 27,395-acre Tiger Bay State Forest, with wilderness and recreation right at your back door.
Another park well worth exploring is Blue Spring State Park, only a short drive away in Orange City. It's a winter home to manatees, the gentle, marine "sea cows" that thrive in Sunshine State waters and seek our warmer temperatures in colder weather.
Manatees and natural springs are two quintessential Florida experiences rolled into one. Here's our tips on seeing the manatees at Blue Spring State Park.
Where it is
Blue Spring State Park is an easy drive from Mosaic.. The address is 2100 West French Avenue in Orange City. The park is approximately 27 miles and 45 minutes from Mosaic if you jump on nearby Interstate 4 and head southwest toward DeLand.
Take Exit 114 off I-4 and head west on State Road 472. Stay on 472 until you reach East Minnesota Avenue. Turn left. Go approximately a mile, then turn left on U.S. 17-U.S 92. It's a major thoroughfare; you can't miss it. Go approximately two miles and turn right on West French Avenue. A third of a mile later, turn left on Becker Boulevard, then right into the park.
Manatee season
This likely is the first reason many visitors and new Florida residents visit Blue Spring. The park is located on the St. Johns River, and the nearby natural spring run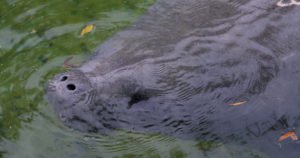 known as Blue Spring is a constant 72 degrees. That's balmy in winter, when manatees seek warmer surroundings than coastal waters.
These slow-moving mammals with friendly, whiskered faces "vacation" in Blue Spring during manatee season here, or the winter months. They're plainly visible in the clear, blue-green water of the spring run. Visitors gather on observation decks to see, photograph and video them.
Note: all water-oriented activities such as swimming and boating are off limits during manatee season.
A year-round oasis
Blue Spring is best known as a winter home for manatees, but observing Florida's sea cows is only one of its many offerings.
When manatees aren't in residence, visitors can snorkel, kayak, canoe, swim, take boat tours, and fish, among other activities, in the spring run. Stretch your legs on hiking trails, picnic at a pavilion and visit the 19th-century Thursby House, built by one of the area's early pioneers, Louis Thursby. Blue Spring also is on the Great Florida Birding and Wildlife Trail.
Ready for your new custom Florida home? Talk to us here.