If you're considering buying or building a new custom Florida home in our super-popular, master-planned community of Mosaic in Daytona Beach, you should know you're not only buying only a home — you're also buying a lifestyle.
Are you in for an awesome treat!
Caroline Cline, Mosaic's lifestyle & activities director, helms the effort to connect new neighbors and support their community with fun events, volunteer opportunities and special perks for simply being a Mosaic resident.
With a global health crisis limiting many social activities in 2020, Cline has put her own creativity to the test to help Mosaic residents assimilate into their new community and form new friendships.
Virtual events and Mosaic Medals
One recent event she created was called Mosaic Medals. It featured 10 categories that highlighted residents' different interests, hobbies and overall neighborliness.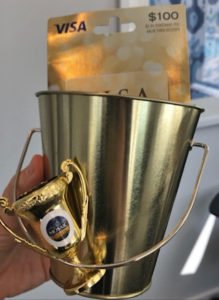 During the month of September, residents were asked to nominate (via email) people they knew — themselves, their neighbors, spouse or kids — for the various categories.
"The bulk of it was just to focus on the good," she said. "So people can see what their neighbors are doing."
Cline was pleased with the response, saying, "[it was] a little slow and go during the first week of September and then I got a TON of people with last-minute nominations."
"I just think some of our people are like the rest of the world — facing Zoom fatigue," she admitted.
The fun component was important, since virtual events must replace face-to-face social calendars for the moment.
Undaunted, Cline hosted a Facebook Live pep-up party, then the neighborhood Zoom gathering on Sunday, Sept. 27. Residents could tune in and hear the winning announcements live.
The results? Special recognition for each category's Medal winner, a drawing among the 10 category winners for a $100 grand prize, plus fun prizes (such as handy, helpful gift certificates) for everyone.
"We've been super-disconnected because we're not doing in-person events, so I just thought this was a really good way to get to know each other, and a good way meet your neighbors," Cline said.
Here are more deets on this imaginative, virtual neighborhood event.
Mosaic Medals categories
Cline had a good time brainstorming the topics she thought Mosaic residents would embrace. They included: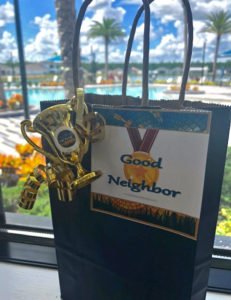 Good Neighbor: participates in charitable community initiatives and/or volunteers.
Super Soaker: a champion user of Mosaic's two community pools.
Mosaic Mover: a fitness champ.
Social Butterfly: great at making new community friends.
Green Thumb: this person's landscaping is proof.
Positively Positive: all-around upbeat attitude.
Facebook Famous: a top fan of Mosaic's lifestyle Facebook page.
Savvy Stepper: loves walking Mosaic's neighborhood streets.
Match Maker: enthusiastically recommends Mosaic to family and friends.
Crafty Creator: makes good use of that new craft room.
And the winners are…
Head to the Mosaic Lifestyle pages on Facebook and Instagram to find out.
Ready for your Mosaic lifestyle? Talk to us here.