Did you know that one of the biggest attractions in Florida lies mere minutes and miles from your new custom Mosaic home?
Daytona International Speedway, the "World Center of Racing," is practically a Mosaic neighbor. It's only 6.5 miles and 16 minutes away, off International Speedway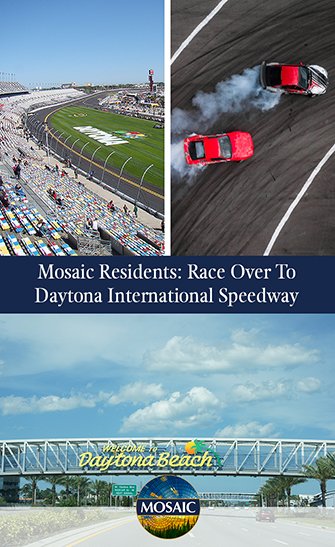 Boulevard. Head south on LPGA Boulevard, then east on ISB. You'll soon see Interstate 95, then the track's light towers. The closer you get, you'll see its massive grandstands.
The Speedway, as you'll hear it called, is much more than a race track. It's a Daytona Beach icon that's busy year-round and a great outing destination for those house guests you'll accumulate.
Here's why Mosaic residents should race, at least once, over to Daytona International Speedway.
You can't do Daytona Beach without the Speedway
You wouldn't go to New York City for the first time and not attempt to see Times Square, right?
Same with Daytona Beach and the Speedway. The home of the "World's Most Famous Beach" also is the home of NASCAR, the world's premier sanctioning body for stock-car racing.
From the early 20th century through the 1950s, this area was a magnet for all types of racing — land-speed record attempts, motorcycles and cars — thanks to its hard-packed sand beaches.
Early NASCAR drivers raced their "stock" cars off showroom floors on a four-mile beach course that included a two-mile sliver of A1A, Florida's Atlantic beach-side highway.
When the racing and crowds outgrew the beach, Daytona Beach resident and NASCAR founder William H. G. France also founded Daytona International Speedway, a 2.5-mile asphalt track with 31-degree banking in all four turns.
The track was built on ISB (U.S. Highway 92) near I-95, and opened in February 1959 with the first Daytona 500 — the "Great American Race."
The rest, as they say, is history.
The Speedway is a fun place to visit
It's huge — the front stretch grandstands are nearly a mile long — and you can't miss it despite ISB's bustling retail, services and hospitality corridor.
Start with the Selfie Spot in front of the main gates. Pull in, park, and snap an awesome photo day or night with the huge DAYTONA INTERNATIONAL SPEEDWAY sign in the background.
Attend a race, whether NASCAR, sports cars, motorcycles or go-karts. Take your own laps around the Speedway via a NASCAR Driving Experience ride-a-long or drive-a-long.
Prefer spectating? Find the Ticket and Tours Building at the corner of ISB and Bill France Boulevard. Choose from three tour options, all of which take you inside the Speedway to famous spots such as Gatorade Victory Lane, the garages, pit road and the start-finish line.
Each tour ends at the Motorsports Hall of Fame of America Museum, with exhibits that spotlight all major motorsports in North America. You'll also see the reigning Daytona 500 champion car.
Ready for your custom Florida home? Talk to us here.