Thinking of relocating to east central Florida? Mosaic, ICI Homes' master-planned community for all ages in Daytona Beach, is a great choice. It boasts location, resident amenities and move-in ready homes, the latter being a big plus in today's hot residential market.
What's do we mean by move-in ready homes?
Also known as spec or inventory homes, these are popular floor plans built with neutral colors and interior design to appeal to a wide range of potential buyers.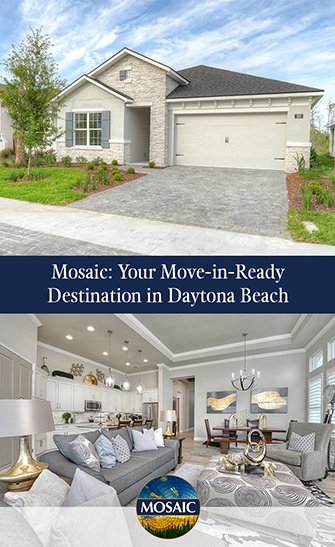 Since they're already in the construction pipeline or finished, move-in-ready homes are a boon for buyers who need to move quickly, or don't want to wait on the building process.
Here's more on why Mosaic is your move-in ready destination in Daytona Beach.
Mosaic's location
You can't beat it.
It's on the west side of Interstate 95, five minutes from the bustling Tomoka Town Center dining, shopping and entertainment district. Mosaic also is only a few miles north of Interstate 4, Florida's cross-state expressway, and a few miles west of "the World's Most Famous Beach" — Daytona Beach's sands.
Did we mention the area is home to three institutions of higher learning — Embry-Riddle Aeronautical University, Daytona State Collage and historic Bethune-Cookman University? Then there's Daytona International Speedway — "the World Center of Racing" — and vigorous job growth.
Equally important is that Mosaic's entire western boundary is conservation land. It's bordered on that side by Tomoka State Forest, which provides both a tranquil backdrop and recreational options.
Mosaic's community
This is a neighborhood for folks of all ages and stages of life. You'll find young families, people active in career and business opportunities, retirees and more.
Mosaic's resident amenities are special, too. Club Mosaic's residents center is the hub for social spaces, a fitness center, two resort-style swimming pools, a playground, event lawn, bandshell and lakeside lounging areas.
An onsite lifestyle director keeps the agenda full of community and service activities that help connect neighbors.
Mosaic's move-in ready homes
Finding the perfect move-in ready home at the perfect time for you does depend on the construction calendar, but Mosaic is a large community with new phases still to be built. So, your next home could be in the planning or groundbreaking stages, if not completed.
Some of the popular ICI Homes floor plans at Mosaic include the Arden, Avery and Juliet III (all four bedrooms and three bathrooms) and the Oakland (four bedrooms and two bathrooms). Check out the Fontana and Juliette for three bedrooms and two bathrooms. The complete lineup of floor plans from ICI Homes at Mosaic ranges from 1,650 to 2,402 square feet, offering plenty of options for a variety of families and lifestyles. Many of these may be available move-in ready homes as you read this!
Intrigued? Begin with our list of available inventory at Mosaic. If you spot a good possibility, connect with our knowledgeable online sales team. They'll coach you up and refer you to Mosaic's sales associates.
Ready for your Mosaic lifestyle? Talk to ICI Homes here.