As Mosaic reaches its one year anniversary, lots of growth and development is in the works.
The sense of community already being fostered by Mosaic's earliest residents is particularly exciting. People are moving in, meeting neighbors and making plans.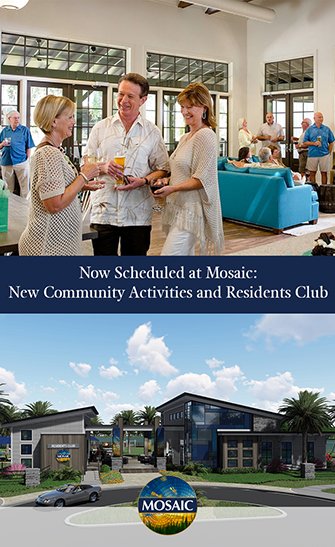 Here to help is Mosaic's lifestyle and activities coordinator, Caroline Ross, who is the go-to source for all questions and feedback about what's going on both in and outside the neighborhood.
Checking in with Caroline is a great place to start if you're a new or prospective Mosaic resident — she's waving hi through your screen — but there are a few more tips and bits of news we'd like to pass along as the community begins to take off.
Meet Caroline first
She's been on board for a little while now, but we're re-introducing her right now. We want to ensure every Mosaic household knows they have their own recreational, fitness and social advocate on property.
At the moment, Caroline is based at the Arden in ICI Homes' model-home park. Her location will change sooner rather than later, however. Per the announcement by Mosaic's developer, ICI Homes, construction at Club Mosaic is scheduled for 2019. Yay!
Anyway, back to Caroline, who's been busy organizing lots of weekly, monthly, and seasonal events for our residents.
She's creating calendars that include activities such as neighborhood game nights, fitness classes and monthly birthday celebrations. Mosaic residents can also drop by anytime with ideas and feedback, and especially during the "Coffee with Caroline" sessions she's scheduling.
About that residents club…
Yes! It's coming. The residents club, which you'll also hear referred to as the amenity center or Club Mosaic, is officially underway as of May 2019.

No matter what description you prefer, rest assured it'll be a doozy in every good sense of the word. Club Mosaic will be built on Mosaic's largest lake and will be the physical center of community living.
It will be the large, beautiful complex sited at the end of Mosaic's entrance drive. You'll find two spacious swimming pools, large indoor gathering spaces, a fitness center, an activity lawn, a boardwalk, playground and an amphitheater for live music and other events.
The fitness trails and sidewalks that will connect every part of Mosaic, will bring you to the residents club for a swim, sunset cocktails on the board walk or the annual Super Bowl party.
Stay tuned for more updates as the club begins its journey from blueprints to building.
Ready for your Mosaic lifestyle? Talk to us here.