Mosaic has so many fun outdoor-recreational opportunities that you might wonder why residents would want to leave the neighborhood to "recreate" elsewhere.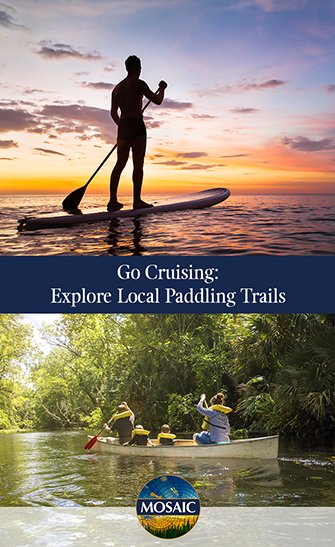 Good question. But this master-planned community in Daytona Beach is located near peerless outdoor-recreational experiences. "The World's Most Famous Beach," for one. The Atlantic Intracoastal Waterway, for another. And a long list of municipal, county, state and national parks.
We volunteer yet another option: local paddling trails. They're a great way to get on Volusia County's many creeks, estuaries, bays and rivers, and to enjoy these splendid coastal and marine habitats — some with views available only from the water.
Most of these experiences also are an easy drive from Mosaic, allowing you to load up in the morning and return home by afternoon or early evening. No arduous cross-state, two-hour trek before you can even get a craft in the water!
Intrigued? Here's a quick intro to local paddling trails near Mosaic.
What to paddle
Enjoying a paddling trail requires a non-motorized personal watercraft such as a canoe, kayak or paddleboard. You are the motor. That's a good thing.
A paddling trail is meant to be discovered at a slower pace. While motorized personal watercraft are exhilarating in appropriate settings, a canoe, kayak or paddleboard permits you to set a more leisurely pace.
This gives you time to see and marvel at the coastal forests, foliage and one-of-a-kind vistas you'll discover. In cooler weather (depending what trail you're traversing), don't be surprised to spot manatees.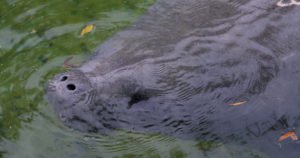 You'll also see shorebirds, raptors such as eagles and hawks, and turtles, among other forms of wildlife.
Don't own paddling gear or have a clue where to start? A good outfitter can rent or sell paddling equipment, plus teach you how to safely use it.
Where to paddle
You're in luck! Mosaic's convenient Daytona Beach location puts you between Volusia County's top paddling trails. The county's website lists nine trails, three of which are Designated Florida Paddling Trails.
Head east for the trails that wind through coastal bays, lagoons, creeks, and stretches of saltwater and freshwater.
These include Bulow Creek State Canoe Trail, Wilbur Rose Paddling Trail, Spruce Creek State Canoe Trail, Mosquito Lagoon Paddling Trail and the Tomoka River State Canoe Trail.
Head west for the trails that tap into the St. Johns River, its tributaries and central Florida's famous freshwater springs.
These include the Hontoon Dead River Paddling Trail, Gemini Springs Paddling Trail, Tick Island Paddling Trail and Alexander Springs State Canoe Trail.
Bulow Creek, Tomoka River and the St. John's River Blueway are the Designated Florida Paddling Trails in Volusia County.
These are mapped routes through a specific state waterway. Designated Florida Paddling Trails are grouped by regions and labeled as beginner, intermediate and advanced. The state program began in the 1970s and includes more than 4,000 miles of trails.
Ready for your Mosaic lifestyle? Talk to us here.