Are you a new or soon-to-be resident at Mosaic in Daytona Beach? How about an enthusiastic user and peruser of social media? If you answered yes to both questions, there's a way you can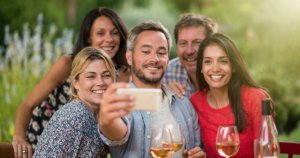 combine your circumstances and your enthusiasms to celebrate your new neighborhood. Post a selfie diary on your fav social media sites! Sharing photos of iconic places helps you tour your new hometown.
Mosaic is one the newest master-planned communities in Daytona Beach and one of its most innovative. Amenities such as smart homes, WiFi throughout the community and a Residents Club that anchors many other perks (swimming pool, fitness center, band shell and gathering spaces along Mosaic's own lake), are huge draws.
Mosaic also is convenient to anywhere in the Daytona Beach area, thanks to its location off LPGA Avenue near Interstate 95, so get out and go!
Here's how to document your new Mosaic residency, selfie-style.
Daytona International Speedway's selfie spot
It's probably the closest (six miles) local icon to Mosaic. Plus, it's waiting on you and thousands of other people who document their presence at the "World Center of Racing" with a selfie.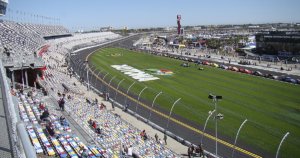 Head east down International Speedway Boulevard until you reach the traffic light at Fentress Boulevard. The track is on the right and you'll see signage directing you to turn right.
The selfie area is clearly marked. The track's massive grandstands and neon DAYTONA INTERNATIONAL SPEEDWAY sign form an appropriate backdrop.
The Jantzen girl
Cross ISB to the One Daytona shopping, dining and entertainment complex. Once you've parked, find the Victory Circle events area and the Jantzen girl suspended in a perpetual dive.
Beginning in the 1960s, this 16-foot fiberglass mannequin spent decades above a long-gone apparel shop on the Daytona Beach boardwalk. She was based on a 1920s logo of the clothing line, and removed by the Jantzen company when the shop closed.
But the Jantzen girl returned in December 2018 (thanks to public pleas heard by current Jantzen owner Perry Ellis International) to be installed in One Daytona.
Strike your best selfie with her!
The Daytona Beach Pier
Worth a reminder: Daytona Beach was incorporated in 1876, so people have been flocking to the "World's Most Famous Beach" for more than a century.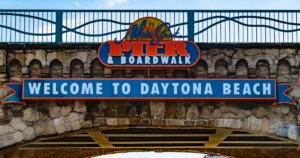 Today's top selfie opportunity is probably out on this circa-1925 pier, where you can snap away with portions of the pier and beachfront behind you.
Ponce Inlet Lighthouse
More history, but quintessentially Daytona Beach!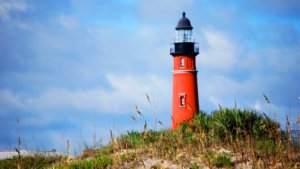 The Ponce Inlet Lighthouse is 10 miles south, where an ocean channel meets the Halifax River.
You'll find more beaches and a quieter vibe here, but as much beauty. The 175-foot Ponce Inlet Lighthouse — Florida's tallest — stands near the inlet and dates to 1887. Its distinct red color is unmistakable.
It's also wonderfully preserved, and still hard at work.
Ready for your Mosaic lifestyle? Talk to us here.