Mosaic is growing and so is the community's inventory of inspiring model homes. As of this writing, the latest addition is ICI Homes' Serena floor plan — a workhorse, showstopper and perennial customer favorite.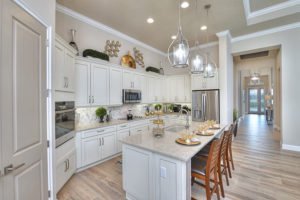 The Serena floor plan is configured for easy and (almost) effortless Florida living. Very few of us escape common household chores, but vacuuming and washing dishes might go down a whole lot easier in a new custom Florida home!
Seriously, the Serena is one of ICI Homes' most popular floor plans. Its size accommodates many different sizes of households and it's designed with gathering spaces and privacy in mind.
The Serena floor plans you'll encounter at Mosaic are paired with 50-foot lots. That gives you plenty of room to enjoy outdoor living spaces at the rear of the home, and lovely landscaping and an attractive street view at the front of the home.
Read on to meet the newest Mosaic model.
First, the basics
You'll find this model home in the northern part of Mosaic, on Azure Court. Its light stucco appearance is the Mediterranean elevation (the home's exterior design),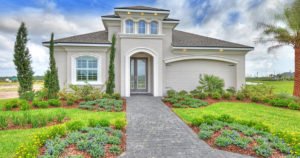 one of six "looks" available to prospective Mosaic customers.
You already might know Mosaic is a master-planned community tailored for households of all ages and stages of life, but you might not know it's imbued with amazing amenities anchored by the centrally located Residents Club.
All Mosaic homes are smart homes equipped with the latest digital technology. They're also EQ Factor homes, which means your Serena floor plan will be built with the latest construction techniques, environmentally friendly materials and energy efficient appliances.
The Serena sets the stage
This one-level floor plan maximizes every inch of its 2,217 square feet. It features four bedrooms, three bathrooms and a two-vehicle garage. A wide entry corridor takes you past three bedrooms, two bathrooms and flex space perfect for a home office.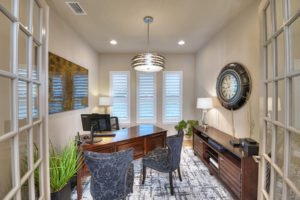 You'll see the spacious kitchen, living and dining areas straight ahead, then the covered lanai that's part of every ICI Homes floor plan, beyond. These more social areas of the Serena are cozy for a few family members, or plenty roomy for Party Central.
The cooks among you should note this Serena model's double-door pantry. And why not consider a summer kitchen on the lanai for outdoor grilling and marshmallow roasting?
Just saying.
Extra, extra
Another cool thing about ICI Homes' Serena floor plan at Mosaic is the options that make it completely customizable — 17 at a most recent count. Cruise through those via the interactive floor plan on our website.
ICI Homes has built custom Florida homes throughout the state for four decades and we like to say we move walls! Prospective customers can enjoy a complimentary consultation with an ICI Homes designer for help choosing, tweaking or customizing a Serena, often at no or low cost.
Ready for your Mosaic lifestyle? Talk to us here.