Are you an outdoors enthusiast considering a move to Mosaic?
If so, you're in extreme luck.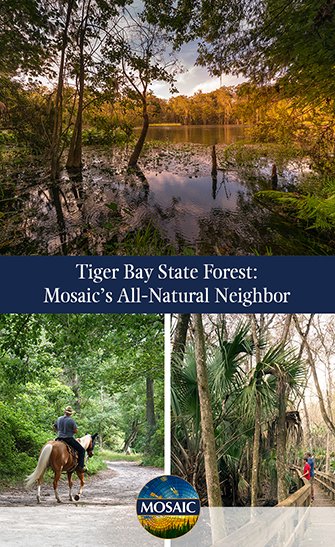 The newest master-planned community in Daytona Beach is mere minutes from one of the area's premier natural recreation facilities — Tiger Bay State Forest.
This means your favorite kind of retreat is virtually at your back door. And that's on top of all the multi-use trails that will meander throughout Mosaic.
But, when only a visit with Mother Nature will do, Tiger Bay State Forest has you covered. It's home to camping, hiking, fishing, kayaking and horseback riding, among other options, and you'll find hours of fun and tranquility among its forests, wetlands and trails.
Here's why Tiger Bay State Forest is Mosaic's all-natural neighbor.
It's literally next door
When we say Tiger Bay is Mosaic's neighbor, we're not kidding. It forms Mosaic's western boundary.
As good neighbors do, they protect each other. Mosaic homeowners know that nature will always be their neighbor to the west, while Tiger Bay's eastern boundary will always abut an amenity-rich, master-planned community rather than, say, a future shopping center.
Specifically, Tiger Bay is located seven miles west of Daytona Beach. It's also west of Interstate 95 and north of nearby I-4.
To reach Tiger Bay from Mosaic, exit the community and turn right on LPGA Boulevard. At the traffic light at U.S. Highway 92 (AKA International Speedway Boulevard), turn right. Only a few miles west, toward DeLand, you'll find Tiger Bay's four entrances (not all clustered together).
If it's your first visit, stop by the forest headquarters. It's approximately a half-mile west of the property's Old DeLand Road entrance.
Yet a world away
Tiger Bay State Forest encompasses 27,395 acres that includes natural and manmade ponds and lakes. A smaller tract is located between U.S. 92 and I-4, but most of it extends north of U.S. 92. That's a lot of room to roam.
Go for a peaceful drive among the longleaf pines, live oaks and other coastal hardwoods. Try four-wheeling, hiking, picnicking at a pavilion, overnight camping, canoeing, fishing, horseback riding and even hunting during designated seasons.
Tiger Bay is a refuge for wildlife as well as people, so you may see bald eagles and other bird species. Keep an eye out for Florida black bears, snakes and alligators (remember they'd rather avoid you, too), but enjoy the birds and occasional deer sighting.
Tiger Bay's Buncombe Trail is part of the Florida Forest Service's "Trailwalker Hiking Program," and its Rima Ridge equestrian trail is part of the Service's "Trailtrotter Program." Its Pershing Highway Trail features a mile of a circa-1917 brick highway.
Tiger Bay also is a survivor. When devastating wildfires plagued east central Florida during the summer of 1998, Tiger Bay was hit hard. At least 15,000 acres burned, but an extensive rehabilitation program restored it.
Ready for your Mosaic lifestyle? Talk to us here.