When you build or buy a new custom Florida home at Mosaic, you get much more than a mere home site and dwelling. You get an active, flourishing community ready to welcome you.
It's true that Mosaic residents enjoy amazing amenities in an amazing location in Daytona Beach.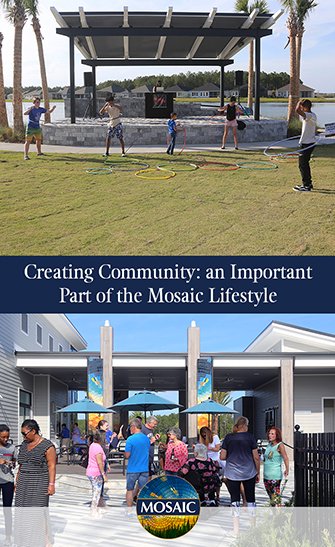 But they also inherit an existing esprit de corps that transforms their neighborhood into community.
Caroline Cline, Mosaic's lifestyle and activities coordinator, is charged with fostering that atmosphere. According to her, the bonds she sees between neighbors mimics the community's name.
"I feel so cheesy when I say it, but we really are creating a mosaic," Cline says. "We have such a beautiful, diverse community — different ages, cultures, races — across the board. But everyone comes together in a gorgeous way to create a great community."
Here's why you gain more than a new custom Florida home at Mosaic.
It's already a great place to live
If you're searching for a new community in Daytona Beach, Mosaic is must-see. It's located near Interstates 95 and 4, only minutes and miles from the booming Tomoka Town Center dining, services and entertainment area.
"The World's Most Famous Beach" is close enough for daily visits. Tomoka State Forest forms Mosaic's western boundary, which means nature always near your back door. Walking paths wind throughout the community, providing routes for cycling, running and walking, and versatile floor plans accommodate every type of home buyer — from young families, to single folks of all ages, career professionals and retirees, or those soon to be.
But those aren't Mosaic's only perks.
What makes Mosaic a community
Club Mosaic is Mosaic's physical anchor. It sits front and center as you drive into the community. Included are indoor and outdoor gathering spaces, a fully stocked fitness center, two resort-style swimming pools, a playground, band shell, event lawn, and bench swings, chairs and a fire pit on the bank of Lake Mosaic. You can even fish here — it's stocked!
Cline provides Mosaic's community organizational anchor, creating and shepherding an array of monthly activities to keep residents involved with their neighborhood and each other. For example, October 2020's theme was Optimistic October.
"Even though we're social distancing, and we're kind of on our own little islands, we have tons of stuff going on," says Cline, citing a busy October calendar that included a pink-out campaign against breast cancer and a drive-through pumpkin picking.
The recent global health crisis has forced ongoing distant creativity between Cline and Mosaic's enthusiastic residents, many of whom have participated in Facebook Live events, practiced social distancing at the community's amenity sites, and waved and interacted from afar.
But once these necessary precautions are lifted in the future, Cline is ready with a host of fun get-togethers for Mosaic residents.
"When COVID will leave us alone, we've got happy hours, kids' events, holiday events," she promises.
Ready for your Mosaic lifestyle? Talk to us here.
Pictures in this article were taken before the COVID-19 lockdowns and closures.