Mosaic residents know they have plenty of room to roam in their community, whether by two wheels, four wheels or their own feet.
Neighborhood streets and paths are spacious and safe, and numerous walking, running or cycling workouts get done out here every day.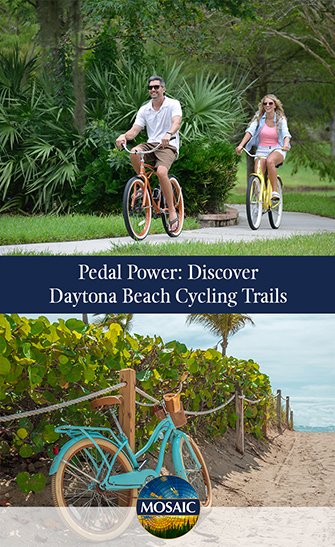 Yes, we're cheering you on, and we hope you cool off afterwards in the resort-style swimming pools at the Mosaic Residents Club!
But, if you love donning the aerodynamic gear, pumping up those bicycle tires and setting off on the Tour de Daytona Beach, allow us to share some fun places to ride outside Mosaic — especially if you're new to the community.
Read on to discover Daytona Beach-area cycling trails.
Start next door
Tiger Bay State Forest forms Mosaic's western boundary, ensuing conservation lands as a constant neighbor. This 27,395-acre resource offers fishing, camping, hiking, equestrian trails and even in-season hunting.
We wrote an entire post about it, so we won't repeat it here, but add cycling trails to the list of things to enjoy at Tiger Bay State Forest, especially if you have a mountain bike.
Stick to forest roads, trails (there are two, the Buncombe Trail and Rima Ridge equestrian trail) and cleared fire lines (ask about the latter at Tiger Bay's headquarters office just west of Mosaic, off U.S. Highway 92). Cycling this rural Florida landscape is a great way to spend time in nature AND get in a workout.
Bike on the beach
Let's move away from "cycling trails" and go a little more free range. Only a few miles and minutes east of Mosaic, "The World's Most Famous Beach" makes an excellent cycling destination. The sand is hard-packed, wide and flat at low tide, and you can ride for miles in either direction.
Apply sunscreen, fill a water bottle and load the bike. Depending where you ride, people-watching can be non-stop entertainment. But so are shore birds, breaking waves and sunrises over the Atlantic.
Have a fat-tire bike? Volusia County beaches are the perfect place to enjoy it. Classic comfort and cruiser styles are at home on the sand too. Just be aware that exposure to sand and salt water can corrode any bike without proper hosing off once you're back home at Mosaic.
Unsure if you want to take your bike to the beach? Rent one for a test ride. Rentals are available from numerous beach-supply stores along A1A, Florida's Atlantic Coast highway.
Surrounding trails
Volusia County is part of the River-to-Sea Loop, a 260-mile, paved, off-road trail network in five central Florida counties that's scheduled for completion by 2025. It connects inland trails from the St. Johns River to the Atlantic coast. New sections come online all the time.
The River-to-Sea Loop incorporates the eventual 26-mile Spring-to-Spring Trail further inland. Other resources include the Volusia Parks & Trails App, which supplies detailed info on many recreational options, including cycling trails.
Ready for your Mosaic lifestyle? Talk to ICI Homes here.