For those of you old enough to remember — and those younger who want to know — changing TV channels used to require getting up from the couch and flipping a physical switch on the TV.
By the way, you'd have no more than 10 or so channels (obviously this predated the cable era).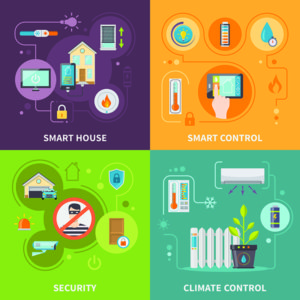 So imagine the amazement when the first TV remote controls debuted decades ago?
It's the same scenario for today's "smart homes." We invite you to check out our new master-planned community in Daytona Beach, Mosaic. Every Mosaic home has the option to be affordably built with smart-home capabilities and systems. You don't even have to be a techno genius to operate or live in one.
Want proof? Here's how to go basic or bold in your Mosaic smart home.
Just enough, is plenty
If you join us at Mosaic, you won't have to attend a day-long seminar to learn how to operate your new smart home. A smart home's foundational systems are geared to function digitally, using Wi-Fi access and the ability to control those systems with a touch-screen monitor, your voice (by speaking to a virtual personal assistant) or remotely via downloaded apps.
Don't be nervous. We're talking about basic functions — heating and air conditioning, seeing who's at the front door, and controlling lights, for example.
With a smart home, you don't have to walk to the thermostat to pump up the AC. Find the smoke alarm and punch STOP if you burned the chicken for dinner. Or, rely on a dinky peephole to see who's at the front door. All those adjustments are at your fingertips on your smart phone or computer, or a touch-screen monitor. Or, at your voice if you use a virtual personal assistant.
Just like those first-generation TV remotes.
One piece of advice: don't allow all the terminology and smart-home-speak to frustrate you if you're not familiar. It's not a new language. Research what you don't understand, or talk to people who're more versed about the topic.
Once you live in your new Mosaic smart home, you'll discover you're only fusing common things you do everyday with cutting-edge products. Simple as that.
I want it all!
If this is you, we bet you're one of those people who wait in line the day an anticipated digital device goes on sale for the first time, aren't you?
At Mosaic, we'll get you off to a good start. Each smart home comes equipped with an Amazon Echo system, a front-door camera, smart light switches whose functions you can customize, a thermostat programmable from anywhere and a Control 4 Smart Hub. You'll have to add any other bells and whistles, but possibilities almost are limitless depending on your household's inclinations.
More and more kitchen appliances feature smart capabilities. How about a Wi-Fi-enabled pressure cooker? There are refrigerators that might classify as sous chefs. The functions and tricked-out things you can build into home theaters and entertainment systems, grows almost daily.
However, don't underestimate the simple stuff. It sure is nice to ask a virtual personal assistant to, "Turn on the AC," instead of hauling yourself to that manual thermostat in the hall.
Ready for your Mosaic lifestyle? Talk to ICI Homes here.