Living at Mosaic means never having a shortage of things to do in your own neighborhood.
This master-planned Daytona Beach community is stocked with amenities such as a new residents club (Club Mosaic – coming soon!), walking trails, sparkling ponds, WiFi throughout, pocket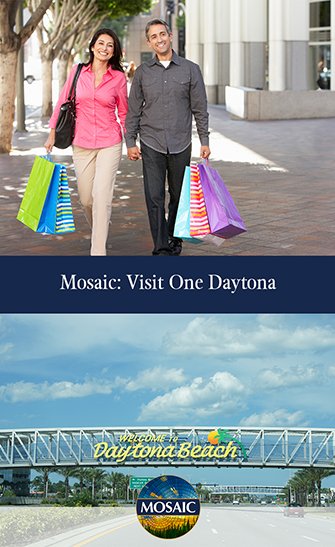 parks and a playground — to name a few.
And that's not all, folks. Club Mosaic is where all the fun begins thanks to two swimming pools, a bandshell, fitness center and a lake. It's yours to enjoy solo or with family and friends.
So, why would you ever want to leave? Well, when it's time to seek amusement elsewhere, there's a great location only minutes away — One Daytona.
This shopping, dining and entertainment enclave is only 15 minutes and 6.5 miles east of Mosaic. It's located off of International Speedway Boulevard across from — what else? — the iconic Daytona International Speedway.
There's plenty to do at the Speedway if you're a racing fan, and even if you're not, the 2.5-mile venue hosts many non-racing events year-round. But across the street? Well, there's something for everyone at One Daytona.
Let's go explore.
It's all right there together
One Daytona is a one-stop entertainment destination.
The Daytona Beach area is bustling and expanding, and One Daytona is among its newest and most innovative complexes. It's perched in the center of International Speedway Boulevard's hopping commercial corridor, and is super-easy to to get to and enjoy.
Retail and dining establishments dot its cozy thoroughfares, with pleasant walkways, benches and lovely landscaping to enjoy along the way.
Park in any of One Daytona's free surrounding lots and walk to a restaurant for a yummy meal. Enjoy an after-dinner libation. Do some window-shopping, then stop for ice cream before you head home to Mosaic.
Feel like dinner and a movie?
You have 11 eateries to choose from, including coffee and desert specialty shops, before or after the show. The Cobb Daytona Luxury Theatre complex is at the back of the complex and a quick stroll away. They have a yummy restaurant, too, in case you feel like dining while you watch the show. Or, enjoy a meal in their restaurant section.
Once you're in residence at Mosaic, you'll likely have visitors to entertain. One Daytona boasts two hotels — the Fairfield Inn and Suites, and the DAYTONA Autograph Collection Hotel. Both are pristine, comfortable and convenient. The latter usually offers special exhibits on racing in its public areas.
Don't miss the fun events
Restaurants, shops and entertainment options aren't the only things to do at One Daytona.
Seasonal and special events keep the fun going in public areas, too. Check One Daytona's website for a monthly schedule.
Victory Circle, a large gathering space near the front of the complex, offers a fun splash pad fountain, space for bands to play free concerts, or simply spots to sit and talk.
In summer, enjoy a family-friendly time from 5-8 p.m., each Friday in Victory Circle. You and yours can participate in games, dance to a DJ spinning tunes and splash in the splash pad!
Ready for your Mosaic lifestyle? Talk to us here.